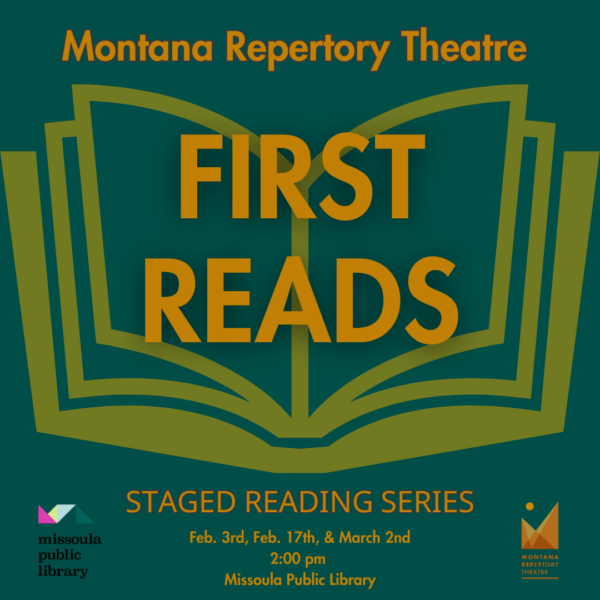 First Reads with Montana Repertory Theatre
Missoula Public Library is proud to host the Montana Repertory Theatre for First Reads, a staged reading series featuring local actors reading three contemporary plays the Rep is considering for full productions. Staged readings let us test these stories in the community before sets, costumes, or other theatrical elements are added, allowing the audience and the actors to immerse themselves in the text and envision a future production. If you're a theatre lover, if you want to be the first to hear the plays the Rep is considering, or even if you just enjoy audiobooks or radio plays, you don't want to miss Montana Repertory Theatre's First Reads!
"The Thin Place" by Lucas Hnath
Saturday, February 3 at 2:00 pm in The Cooper Room
Everyone who ever died is still here, just in a different part of here. Linda can communicate with them. And if you believe, she can make you hear them, too — in The Thin Place, the fragile boundary between our world and the other one.
"Zoey's Perfect Wedding" by Matthew Lopez
Saturday, February 17 at 2:00 pm in The Cooper Room
Saying "I do" was the easy part – this hilarious commentary on commitment is every bride's worst nightmare. Disaster after disaster follows her down the aisle, from brutally honest boozy speeches to a totally incompetent wedding planner and friends too preoccupied to help with the wreckage around them. It is a wildly funny play about love, relationships, expectations, and the courage it takes to find what truly makes us happy.
"Dance Nation" by Clare Barron
Saturday, March 2 at 2:00 pm in The Cooper Room
Somewhere in America, an army of pre-teen competitive dancers plots to take over the world. And if their new routine is good enough, they'll claw their way to the top at Nationals in Tampa Bay. It is a play about ambition, growing up, and how to find our souls in the heat of it all.