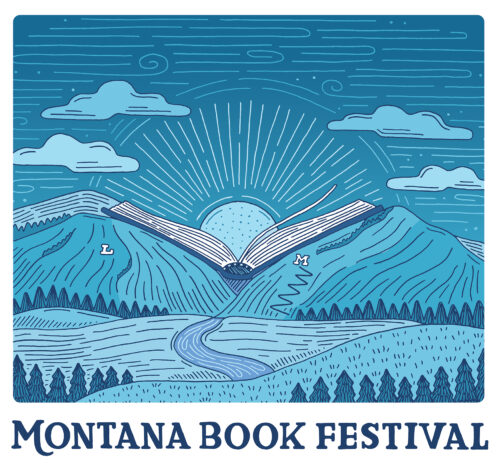 Montana Book Festival
Missoula's annual celebration of all things literary!  Enjoy an exciting array of readings, panels, and exhibits with your favorite, and soon-to-be favorite, literary personalities of the West.
Events list in order, Montana Book Festival 2023
All events take place on the Missoula Public Library Level Four.
Thursday, Sept 7
Festival Opening Celebrations
Featuring Adria Jawort – Cooper Room, 11am
"Outward Exploration as Self-Exploration"
Featuring John Fraley and John Messick – Cooper A, 12:30pm
"Selections from Awake in the World Vol. 3 – Stories, Poems, and Essays About Wildlife, Adventure, and the Environment"
Featuring Mara Panich, Chris La Tray, and Mark Gibbons – Cooper B, 2:15pm
"Writing The West: Hardboiled Detectives, Trail-worn Cowboys, and the World of Charlie Siringo"
Featuring Nathan Ward – Cooper A, 3:30pm
"Blood Money and the beating heart of American Inequality"
Featuring Kathleen McLaughlin – Cooper A, 5pm
Friday, Sept 8
Poetry Roundtable I
Cooper A, 10am
"Where Humans and Wildlife Meet – 2023 Edition"
Featuring Sneed B. Collard III and Christopher Preston – Cooper A, 11:30am
"(Almost) Every Question You've Ever Had About Psilocybin For Women"
-Featuring Jennifer Chesak – Cooper B, 11:45am
"The Poetry of Parents, Their Children, and Vice Versa"
Featuring Rob Schlegel – Cooper A, 1pm
"Border Crossings: An Illustrated look at Human Lines and Animal Lives"
Featuring Sneed B. Collard III – Cooper B, 1:15pm
"Cascadia Field Guide: Putting together Art, Ecology, and Poetry"
Featuring Derek Sheffield and Elizabeth Bradfield – Cooper A, 2:30pm
"A Little Poetry Between Friends"
Featuring Michael Earl Craig and Christopher Brean Murray – Cooper B, 2:45pm
"The State of Genre in 2023"
Featuring Laramie Dean, Gwendolyn Nix, and Almedia Ryan – Cooper A, 4pm
"Sly, Witchy, Twisted, Free"
Featuring Laura Read, Maya Jewell Zeller, Kristen Millares Young, Alexandra Teague, and Sonora Jha – Cooper B, 4:15pm
Saturday, Sept 9
Creative Arts Space
Featuring Josh Quick and Chris "Sandman" Sand – Cooper Room A, 9am
Poetry Roundtable II
Cooper B, 9:15am
"Missoula Writing Collaborative: Words with Wings Summer Camp 2023 Anthology Reading"
Cooper B, 10:45am
"Short Story Collections as Communal Narratives"
Featuring Elise Atchinson, Sindya Bhanoo, and Steve Fox – Cooper A, 12pm
"The Poetry of Process: Rituals and Subversions"
Featuring Jessica E. Johnson and Willa Schneberg – Cooper B, 12:15pm
"The Elusive and Ever-Present Literary Novel"
Featuring Antonia Angress, Christine Byl, and Sonora Jha, and Kristen Milares Young – Cooper A, 1:30pm
"What Doesn't Kill You Makes You Stronger: Poetry about Sex, Death, and the Natural World"
Featuring Cara Chamberlain and Anne Holub – Cooper B, 1:45pm
"The Necessity and Challenges of Holocaust Narratives"
Featuring Buzzy Jackson and Jodi Varon – Cooper B, 3:15pm
"From Farm to Table: How to Care for the Environment, How to Feed a Community"
Featuring Helen Atthowe and representatives from the Anaconda Community Foundation – Cooper A, 4:30pm
"Muppets in Moscow: The Unexpected, Crazy, True Story of Making Sesame Street in Russia"
Featuring Natasha Lance Rogoff – Cooper B, 4:45pm
Sunday, Sept 10
"The Importance of a Creative Community"
Featuring Micah Fields, Lauren R. Korn, Tess Fahlgren, Charley Macorn, and Gaaby Rappaport – Cooper A, 12pm
"The Women Who Made the Mountain West"
Featuring Chris Enss, Marga Lincoln, and Milana Marsenich – Cooper B, 12:15pm
"The Mansfield Center Presents: Mansfield and Dirksen: Bipartisan Giants of the Senate"
Featuring Marc Johnson – Cooper A, 1:30pm
"The Art and Experiment of the Essay"
Featuring Elizabeth Gonzalez James and Jodi Varon – Cooper B, 1:45pm
"The First Best Guides to the Last Best Place"
Featuring Josh Quick and Ednor Therriault – Cooper A, 3:00pm
"This Is Wildfire: How to Protect Yourself, Your Home, and Your Community in the Age of Heat"
Featuring Nick Mott & Justin Angle – Cooper B, 3:15pm
Visit https://montanabookfestival.com/ for complete program information.