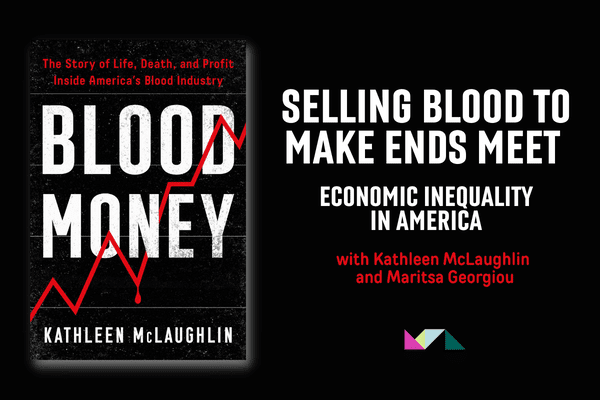 Selling Blood to Make Ends Meet: Economic Inequality in America
Author and journalist Kathleen McLaughlin and news correspondent Maritsa Georgiou will engage in a discussion about McLaughlin's new book, Blood Money. Blood Money follows McLaughlin's decade-long mission to learn the full story of where her medicine for a rare auto-immune disorder comes from. She travels the United States in search of the truth about human blood plasma and learns that twenty million Americans each year sell their plasma for profit—a human-derived commodity extracted inside our borders to be processed and packaged for retail across the globe. Their discussion will center on how this global business exploits economic inequality, with a particular focus on Montana and the Mountain West, and aim to engage attendees in a conversation about solutions.
Kathleen McLaughlin is an award-winning journalist with deep roots in Montana and Missoula, who reports and writes about the consequences of economic inequality around the world. A frequent contributor to The Washington Post and The Guardian, McLaughlin's reporting has also appeared in The New York Times, BuzzFeed, The Atlantic, The Economist, NPR, and more. She is a former Knight Science Journalism fellow at MIT and has won multiple awards for her reporting on labor in China. Blood Money is her first book.
Maritsa Georgiou is a national correspondent for Scripps News after years as an anchor at NBC Montana where she specialized in COVID-19, politics and wildfire coverage. She's most widely known for her reporting on the planned removal of USPS blue collection boxes before the 2020 election, which earned her the 2021 Walter Cronkite Award for Excellence in Television Political Journalism.