Display Cases Application
The library has two display cases on level 3 that community groups may rent for one month with approval from management. Please talk to a librarian on Level Three for availability and fill out the form below to have your display considered.
Internal display dimensions are roughly 51″ wide, 33″ tall, and 19″ deep
Each display contains two adjustable glass shelves and locking glass sliding doors
Display cases are lit from the top down by a LED light string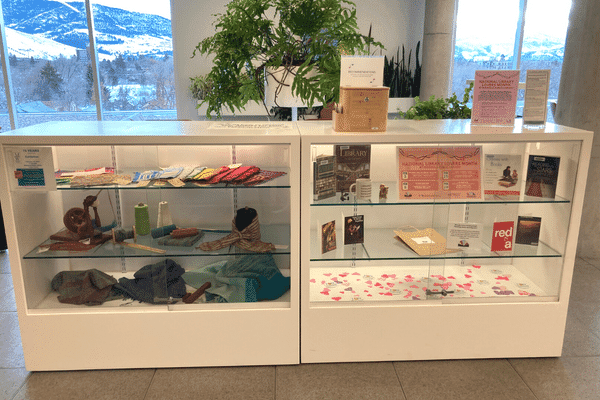 First, please read the Display Cases Policy. Applications are due at least two weeks in advance. Please allow 48 hours for library staff to respond to your application.
Purpose – The Missoula Public Library display cases are provided to support library-sponsored programs and as a service for community exhibits.  Content of non-library exhibits is not endorsed by the library and is the sole responsibility of the exhibitor.  MPL display space allows groups to publicize activities, history, and current projects. 
Restrictions – Eligible exhibitors may include government, school, and non-profit organizations such as community, youth, and arts groups whose aims are educational, cultural, informational, and lawful.  Displays may not contain commercial components or concern political parties, political candidates or ballot issues. 
Scheduling – Exhibits may be scheduled by submitting an application to the library at least two weeks but no more than three months before the display period.
Installation – Exhibits will be installed and removed by members of the sponsoring organization.  Exhibits can be installed on the first day of the month that the library is open.  They must be removed by the last open day of the month.  Exhibits not removed in a timely manner may be removed by staff. 
Sales – Exhibition items may not be priced for sale.
Publicity – All publicity is the responsibility of the exhibitor. 
Security – Library facilities are designed to be reasonably secure.  Exhibitors may staff their displays, but the library cannot provide personnel to guard installations.  The library is not financially responsible for loss or damage to any exhibits.  Exhibitors must assume responsibility for damage caused to MPL facilities by their display should it occur.
Insurance – The county insurance only covers property owned by the library.  Exhibitors wanting insurance must arrange for it themselves. 
Hours – The display area is open only during normal public building hours.