Where creativity and curiosity merge into a space that uses innovative tools and technologies for educational, recreational, and business pursuits.

Open Hours allows library users to explore the equipment and resources of the Makerspace. Please note that due to COVID-19 protocols, users are limited to being in the library building and the Makerspace for one hour or less.
Do you have questions or need a project completed on our equipment but can't make it in during our Open Hours? Contact Ira Sather-Olson with the MakerSpace at iraso@missoula.lib.mt.us or by phone at (406)541-8861.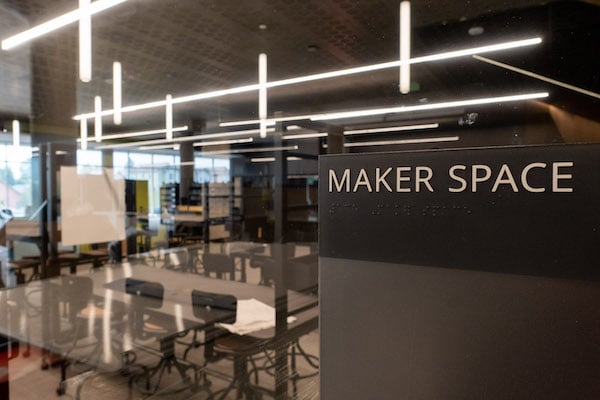 Laser Cutter/Engraver
-Thunder Laser USA Nova 24 60 watt laser cutter/engraver
3D Printers
-Prusa i3 MK2s
-Monoprice Maker Select V.2
-Creality CR-10s
3D Scanners
-Einscan-S Desktop 3D Scanner
-iSense 3D scanner attachment for iPad Air, which uses the 3D scanning program Skanect
CNC Machines for Cutting and Carving
-Inventables Carvey Desktop CNC Machine
-Shapeoko 3 XXL CNC Router
Die Cut Cutting Machines
–Cricut Maker
Sewing Machine
-Bernina 1008 sewing machine
Tools/Hand Tools
-Dremel 4000 rotary tool
-Duracraft 3-speed Drill Press
-Black and Decker cordless drill set
-Soldering Iron stations with soldering supply kits
-Various screwdrivers (Phillips, Flat, Torx, Hex)
Computing/Electronics
–Sparkfun Arduino Inventor's Kits (6)
–Sparkfun Raspberry Pi 3 Kits (6)
-Dell Vostro 3560 laptops (6) with Windows 10 and software including Microsoft Office, Fusion 360 (CAD program for 3D printing/prototyping), Inkscape (free vector graphics software), GIMP (free image editing software) and more
-Dell desktop computer system with Adobe Creative Cloud Suite installed
STEM Tools/Toys for Children
–littleBits Kits: littleBits Premium Kit and littleBits Synth kit
-Ozobot Bit robot kit
-Makeblock Mbot Robot Educational Kit
-Edison Programmable Robots (3)
-Cubelets six robot blocks kit
-Squishy Circuits: Basic Kit
-Electronic Snap Circuits Classic SC-300 Electronics Exploration Kit
-Electronic Snap Circuits 3D Illumination Kit
-Let's Start Coding.com Kits: Base Kit and Code Piano Kit
-Makey Makey Kits (6)
-Lego Mindstorms EV3: Robot Building Kit
-Thames Kosmos: Robotics Smart Machines Kit
-Smart Lab: Smart Circuits Kit
Join MPL's Ira in the Makerspace to learn about MPL's Laser Cutter/Engraver and get a taste of what you can use it to do.
Join MPL's Ira in the Makerspace to learn to use the Carvey Machine to take computer graphics and bring them into the real world as stamp and carvings.
Kids can learn how to make a 3D printable valentine with the free online 3D modeling program TinkerCAD
TinkerCAD Trinkets Tutorial
Join MPL's Ira in the Makerspace to learn to make virtual models and then bring them in to the real world with MPL 3D printing.
Printed Ornaments for Kids
Kids can learn how to make a 3D printable ornament with the free online 3D modeling program TinkerCAD during this pre-recorded class.