Missoula Public Library has more than just books and movies!  Your library card gets you access to a variety of nontraditional collection items as well.
Missoula Public Seed Library
Missoula Public Library is happy to announce the return of the Seed Library!
Our friends at Five Valleys Seed Library have donated us seeds so we can establish the library's own seed library. You will find the seeds right outside the Level Three Demo Kitchen in the big cabinet.
Please take your harvested seed donations directly back to the Five Valleys Seed Library at their new home located at 1657 River Rd. The library can accept donations of unopened seed packets. Happy Growing!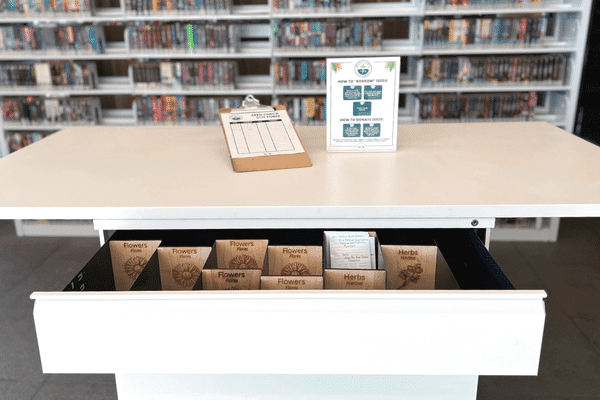 Life Jackets – Readily available during the summer for children up to 90 lbs.  
Assistive Reading Devices – Selection of print magnifying devices to aid with reading. Check the library catalog for availability.
Automotive Diagnostic Scanners – Diagnose your automotive trouble with one of MPL's OBD2 scanners.
Travel Kits/Trail Guides – Got a great trip or hike planned out? Check out these materials for your next great destination.
Binoculars/Birding Backpacks – These come in handy for your next hiking adventure.
Board Games – Unplug for an evening and have some real-life fun with our board game collection. View the full list of board games in our catalog.
Puzzles – Do you buy puzzles, work them once and then store them in a closet never to be worked again? Pick up a new one in our puzzle swap area, or bring your puzzles to share with others.
Kill-a-Watt Meter – Want to know how much energy that appliance is using? This gadget will tell you.
Telescopes – Fully explore Big Sky Country. Thanks to the Western Montana Astronomical Association.  
Bike Locks
Memory Kits – Activity kits for caregivers to use with persons experiencing memory loss.
Kitchen Gadgets & Cake Pans

Wireless Hotspots
Ready 2 Read trunks
Call 406-721-2665 for more information.
In addition, MCAT has items you can also check out.